Dedicated in service to veterans, the family and community.
MISSION OUTREACH PROGRAMS
Our mission is to support The American Legion and to honor the sacrifice of those who serve by enhancing the lives of our veterans, military and their families, both at home and abroad. For God and Country, we advocate for veterans, educate our citizens, mentor youth, and promote patriotism, good citizenship, peace, and security.
ALA Girls State
At American Legion Auxiliary Girls State, high school students who have completed their junior year are competitively selected to participate in the seven-day mock government program where they learn about civics and American government in a fast-paced, interactive program of campaigning, debating, voting, and electing mock local and state leaders. Learn More...
Americanism
At American Legion The Auxiliary provides learning opportunities and instructional resources for important things every good citizen should know such as learning about the Constitution, flying the flag on patriotic holidays, folding pocket flags to send to our troops overseas, and presenting flags to local schools and businesses. Learn More...
Care Packages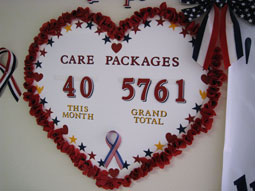 Each month Auxiliary Unit 44 gathers at the American Legion Post 44 in Elephant Butte to prepare and ship care packages to military personnel serving abroad in active duty.
Children & Youth
A core element of the Auxiliary's mission, caring for our children and youth, is sharply focused on educating adults about the needs of our young people. We believe that the more people know and understand about the needs of the children in their communities, the more interest they will have in learning how they can help meet those needs. Learn More...
Community Service
Auxiliary members are continuously at work in their communities, demonstrating the compassion and heart we have for those who serve our country and give so much. Community Service projects focus on enhancing the quality of life for veterans and their families. Learn More...
Education
The American Legion Auxiliary believes education is vital to democracy and that investing time and money to educate our youth is literally an investment in America's future. Our Education program fosters learning for children in our own communities, with our main focus on the children of our military and veterans. Learn More...
Junior Member Activities
The Junior Activities program prepares girls under the age of 18 to become active adult members of the organization by providing positive volunteer experiences that instill the ideals of the Auxiliary. These young ladies develop leadership skills while having fun and will hopefully become the future leaders of our organization. Learn More...
Legislative
As advocates for our veterans, we encourage our members to contact their elected officials by phone, e-mail or letter to implore them to keep the needs and sacrifices of our soldiers and their families' front and center as they go about their legislative work on behalf of their constituents – that's all of us! Learn More...
National Security
By supporting activities that address the practical and emotional well-being of military service members and their families, the Auxiliary's National Security program hopes to ease the worries of those deployed so that they can focus on the monumental task of protecting our country. Learn More...
Poppy
On Memorial Day and Veterans Day, millions of red crepe paper poppies—all handmade by veterans as part of their therapeutic rehabilitation—are distributed across this country in exchange for donations that go directly to assist disabled and hospitalized veterans in our communities. Learn More...
Veterans Affairs & Rehabilitation
Coming home may be the end of one journey for many of our veterans; it is also the beginning of a new journey to transition to a "new normal." At the core of the purpose and service of the American Legion Auxiliary is helping them get there. Learn More...