OPERATION WOUNDED WARRIOR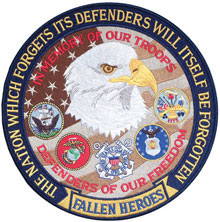 Operation Wounded Warrior provides health and comfort items to the service men and women recovering from injuries sustained through their participation in the Armed Forces of the United States. Operation Wounded Warrior is a part of the national effort and is a "Project" of the New Mexico Legion Riders.
"They may be back… but they're still not home"
Our Wounded Soldiers NEED YOUR HELP
Donate comfort items we take for granted.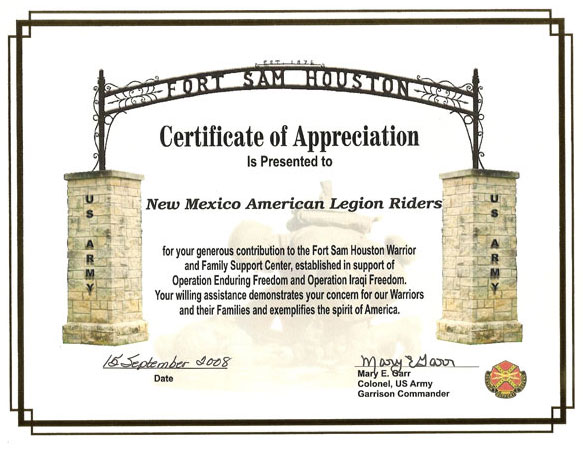 The Certificate of Appreciation, pictured above, was presented to New Mexico American Legion Riders in 2008.
Read the End of Mission Report
WHAT OUR TROOPS NEED:
(New, unopened, cleaned items only)
Personal Hygiene Items:
Mouthwash (small bottles)
Deodorant (men and women's)
Toothpaste and toothbrushes
Q-tips and cotton balls
Shampoo, conditioner
Skin lotion (for sensitive skin)
Dove soap (for sensitive skin)
Sunscreen (for sensitive skin)
Razor blades and shaving cream Cologne/aftershave
Ladies perfumes
Clothing Items:
Sweat Pants with pockets; any pull-up type without buttons, snaps or zippers)
T-Shirts with pockets
White sweat socks (all sizes)
Men and women's underwear (all sizes)
Pajama bottoms (large and small)
Lap blankets
Rubber soled slippers, men and women (all sizes)
Recreation Items:
Postage stamps
Portable CD and DVD players
Calling cards
X-Box 360 Games
Current magazines
Board games
Playing cards
Money: - to purchase gift cards
Personal letters: - to service personnel from schools, organizations, and/or individuals who care!